06 August 2015 | August 2015
A few weeks into my college days, as I made my way from the Students' Union building to my student flat on the 19th floor of a campus building, I noticed a rather suspicious looking character who seemed to be following me around. As I entered one of the elevators in the ground-floor of the building, he followed peering sideways at me but looking away whenever I tried to catch his eye. As the elevator arrived at my floor, I was hoping it was all just my imagination and that perhaps he would continue up to the top floor above me. But, as I left the elevator, he followed and as I reached the doorway into the group of six study bedrooms, shared kitchen, and bath that was my home on campus, he was still right there – right behind me.
"Do you want something?" I asked nervously.
"Gary, I want to talk to you," he said quietly.
"How do you know my name?" I asked in surprise.
"Oh, I know a lot about you." he replied. "And I must speak with you – Now if possible."
Reluctantly, I let him in to my study bedroom and he introduced himself as an Indonesian student. He practiced meditation, he said, and he had been asked by his Guide to talk to me and help with some challenges that I was facing. I was rather incredulous but convinced. How exactly did he know my name?
Anantha and I actually became firm friends from that point forward. He really did know a lot about me for someone I had just met and that seemed both mysterious and alluring. He tried to help me understand that I was a 'sensitive' and that this sensitivity meant that I was open to all the flotsam and jetsam of the astral world. He also told me that my uncontrolled reaction – pure fear – was attracting things from that realm that I was probably better off without. He started to teach me some psychic self defence methods that were useful but the problem was that at the smallest hint of any phenomenon, I became a total wreck and fear possessed me completely.
In order to help me overcome this deep-seated fear, he suggested that it might help if I could share a controlled experience with him. Sitting me down in a comfortable position, he asked me to close my eyes and relax. Peeking out of the corner of my eye I watched him do likewise. Suddenly, I was with him in a stone tunnel, it seemed to go on for a great distance and as it did so, it slowly curved around so that you could not see where the tunnel went. What I could see though, was the brightest light I have ever seen. It filled the tunnel with golden light but its source was always just around the bend in the tunnel so that it could not actually be seen directly. The light began to fill me with laughter. It made me feel very happy, happier than I had ever felt and happier than anyone has any right to feel. I began to laugh out loud and as I did so, tears of joy sprang from my closed eyes. As I laughed an odd thing happened. My laughter seemed to become magnified thousands of times and to descend in pitch until I realized that this was not my laughter anymore but someone or something else's laughter. The laughter permeated throughout my entire being so that everything was laughter and golden light and I knew then that I was in the presence of God.
When I finally came out of the trance that I had found myself in, Anantha was already sitting opposite me with a smile on his face and a questioning look in his eyes.
"You see, He is always there for you," he explained. "There is no need to be frightened. All you have to do is trust in Him."
As I discovered on several occasions since then, a wonderful experience like that quickly fades just as the memory of a dream fades. At the time that it happens and shortly afterwards, it feels as if it should surely stay with you forever, but it fades just the same as consciousness returns to normality. And, with its fading away so too the newly found and almost grasped confidence went with it and as Anantha left, I was ashamed to feel just as frightened as I had been before.
Anantha did help me a lot though. Through slow perseverance he got me to a state that I could best describe as the toleration of fear. He was also someone that I could share my thoughts and experiences without fear of reproach or that look of horror as your confidant realizes that you might well be a total freak. Unfortunately, he left the college at the end of my first year returning to Indonesia and I never heard from him again.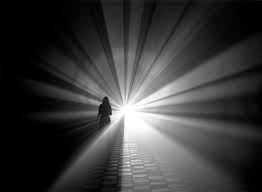 A true story from My Haunted Life and My Haunted Life – Extreme Edition
© 2023, G. Michael Vasey & My Haunted Life Too.com (Unless indicated otherwise by author's own copyright above). All rights reserved.