29 August 2015 | What Is a Ghost? and other definitions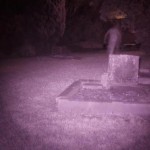 According to my dictionary anyway, a ghost is an apparition of a dead person which is believed to appear or become manifest to the living, typically as a nebulous image. However, ghosts may be experienced indirectly as noises, emanations, smells, shadows and so on. In fact, ghostly activity might better describe what most people think of as a ghosts and that can be defined more broadly as of or relating to a ghost : suggesting a ghost. In essence, ghostly activity can also be defined as an aspect of paranormal activity.
© 2023, G. Michael Vasey & My Haunted Life Too.com (Unless indicated otherwise by author's own copyright above). All rights reserved.