28 September 2015 | September 2015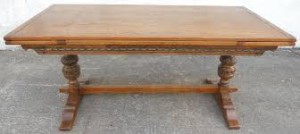 About twenty years ago we moved into a very old house. When one of the walls was removed, they found a room, inside the room two of the workmen discovered an old table. It looked extremely old and my parents decided to keep it.
At the time we all thought it was a beautiful table and it lived in our dining room. We had never experienced any kind-of paranormal activity but we began to notice that some of our family photos, taken at the table, had orbs in them. Finally we realized that the only photos that had orbs in them were photos that included the table. Nothing more sinister than that really happened—we still have the table and strange things happen when the focus is on the table. For example my mother was showing the table to her friend and a vase that had been sitting on a shelf fell to the ground. I have seen plates switch sides of the table and my father swears the table has moved, just inches, but he swears it has moved.
My question is this—can an object be possessed?
Ruth
© 2023, G. Michael Vasey & My Haunted Life Too.com (Unless indicated otherwise by author's own copyright above). All rights reserved.