19 November 2015 | October 2015
This experience puzzles me until now.
It happened when i was still young. I woke up at 2am since i needed to use the comfort room. As i was going to the comfort room, I looked at the door of the living room. The living room has a wooden door and a curtain. At that time, the wooden door was open and it was dark in the living room. Looking at the curtains, I saw two pairs of feet like there are two people standing behind the curtain. I did not mind it thinking they were only my parents so I went to the comfort room then returned to my room. On my way back to my room, the feet are still there.
In the morning, I asked my parents what they were doing standing behind the curtain.
They looked confused and said they were sleeping at that time.
This is when i started to think, why the hell would somebody stand behind the curtain at 2am. The curtains are made of thin cloth with hole designs. If someone is standing behind them, you should see his body from the other side, but at the time I saw the feet under the curtain, I never noticed a person standing behind the curtain. The feet standing there were not attached to a body!
Until now, whenever I remember this experience, I still cant come up with any explanation as to where those feet came from.
Whose feet were they?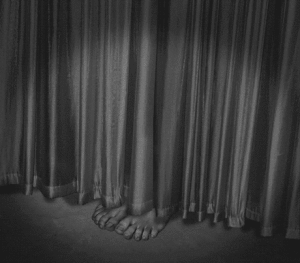 © 2023, G. Michael Vasey & My Haunted Life Too.com (Unless indicated otherwise by author's own copyright above). All rights reserved.