27 November 2015 | November 2015, Your Stories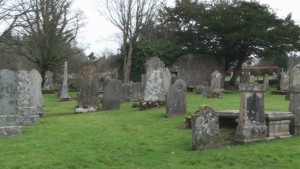 On the edge of town there is a very old graveyard. It had a name at one point—but the marker has been worn down to such a degree that the name is now unreadable. Most of us just call it the "bone yard."
The graves are some of the oldest in America. Some of the tombs are falling apart, many of the graves are unattended. Sometimes you see a bouquet, wreath or some sort of remembrance—but not often.
One day I was walking home and happened to be walking past the graveyard. A man wearing a blue suit and tie and old bell-bottoms was wandering through the graveyard. Blue eyes, shaggy hair, sideburns. He looked like a caricature of the 70's.
I watched him—more surprised at someone visiting the graveyard, than by his appearance. He walked down a path, towards a grave and disappeared. Right in front of my eyes. I have visited the graveyard since then to try and see him. I haven't seen him—but his grave is one of the newer ones. It does fit the time period. Did I see a man who died in the 1970's? I think so.
Submitted by Bill Jones
© 2023, G. Michael Vasey & My Haunted Life Too.com (Unless indicated otherwise by author's own copyright above). All rights reserved.