02 February 2016 | January 2016
We live in an old house that was built in the 1800's. There is a long mirror above the bathtub that always gets some light from the hall. You can see from the mirror into the ante-room, and then into the hallway.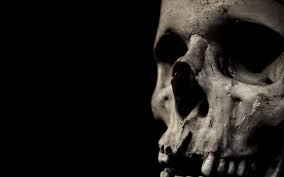 I was sitting there one night and noticed that the mirror wasn't reflecting into the hallway. It was grey, dark and looked as though it had been bricked up. It looked totally solid.
I thought I was just falling asleep and seeing things—but something was coming through the cement. I kept watching. It was a skull. It slowly moved out of the mirror, looked into the hallway to make sure it was alone. I'm on the other side of the room, in the dark. It must have heard me because it turned, stared at me and then went straight back into the mirror.
It didn't take long—but the mirror returned to being an ordinary mirror. I never saw the skull again.
Submitted by Anon.
© 2023, G. Michael Vasey & My Haunted Life Too.com (Unless indicated otherwise by author's own copyright above). All rights reserved.