22 February 2016 | February 2016
My grandpa had lived in the same house ever since he moved in with his parents at the age of 2. He grew up there and when he got married, his wife – my grandma moved in with him and they brought up their children there. I spent a lot of time there during my childhood and I always loved this place.
But as the years went by, it was time for them to move to another place. There were many reasons, the flat was quite cold and wet in winter, also there was no elevator and the rent was pretty high, and when the day came when one of them was alone, it would be impossible to pay for it. Fortunately my grandma inherited a flat from her mother so they had a place to move to.
A few days before they were about to move, my grandma and her sister decided to throw out a couple of boxes of books that would not be going to their new home with them. When my grandma got back home later, she decided to check the mailbox. There were the usual newspapers, leaflets and a letter from Canada.
As my grandparents have friends overseas it was no surprise. They thought, that Dasha, their friend who had recently lost her husband to cancer, was sending them her greetings as usual. But when they opened the letter they were completely speechless…The letter was actually written by Dasha´s husband Vladimir, who went to university with my grandpa, sending them his best wishes and some pictures of his two-year-old son Martin with a note saying: "I guess that both your children are already going to school." The letter was signed and dated in 1972!
My grandparents were shocked when they read through the entire letter. Not only were their children no longer going to school, but even their grandchildren had already graduated from university. They couldn´t find any logical explanation for what they were reading. The letter had not been opened when they found it in their mailbox, so it was not possible, that it had fallen out of one of the books they had thrown away.
My grandpa couldn´t sleep that night, thinking of his old friend who had passed away 3 years earlier and imagining him writing the letter he never replied to. Although my grandparents told the story to all their friends and family nobody was able to come up with a reasonable explanation for the mystery of why this letter was delivered nearly half a century late or maybe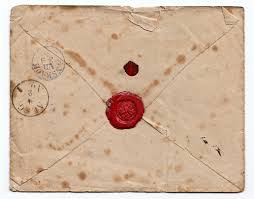 the reasons for the delayed delivery were lost in the mists of time!

Submitted by Joe on behalf of Lenka
© 2023, G. Michael Vasey & My Haunted Life Too.com (Unless indicated otherwise by author's own copyright above). All rights reserved.