01 March 2016 | March 2016
In the early 80's, a close friend of my husband's came to visit us from California. He stayed for a couple of months and was helping my husband do some garden work. One day he stopped and went into the garage to pick out a tool for my husband. I was outside sitting, watching them men work—my husband's friend called from the garage.
"Who is the Glenn Miller fan?" he called out.
My husband and myself turned to the garage and then looked at each other.
"Neither of us, "I called back. "Can you get me some more iced tea?"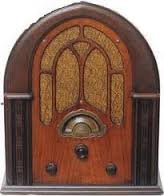 We didn't get a reply. My husband went into the garage and saw his friend searching around for the source of this old, crackly big band music. Neither of them could find out where it was coming from. They moved some boxes and found an old radio at the back of the garage. Behind it was a box full of old toys and a sack filled with old camera equipment—the radio kept on playing. I joined them both in the garage, and that's when I noticed something. The radio was unplugged.
Did we hear a ghost broadcast from the era of big band music?
Submitted by Anon.

© 2023, G. Michael Vasey & My Haunted Life Too.com (Unless indicated otherwise by author's own copyright above). All rights reserved.