04 November 2016 | Haunted houses, Haunted locations
If you love Downton Abbey, and you catch all the period dramas you can get your hands on… you may be sold on the idea of living in a Georgian mansion with servants, hunting meets and grand balls. You may even be planning a trip to visit one of the many beautiful estates that scatter the United Kingdom— Chatsworth, Caulke Abbey or even Buckingham Palace. However, if you are traveling through Derbyshire, you may happen to see the ruined shell of Sutton Scarsdale Hall above you as you drive on the freeway. You may be tempted to visit, and visit you can—it's free. You will park in front of a great ruin and see its splendor and you will want to investigate. Go ahead, but you may want to keep your eyes open and your car keys close to hand. Why?
Because the place is reputed to be haunted.
In its day, Sutton Scarsdale Hall was said to be one of the finest houses in the Derbyshire area even rivaling the interior of Chatsworth House. It is now a shell, standing proudly on a hill overlooking the Bolsover Valley. The original building was of great beauty and grandeur until it was sold and then went into great disrepair. In the 1920s, parts of it were auctioned off and allegedly even sold to film sets. By 1946, the building had deteriorated so much that demolition was scheduled, but an emergency rescue was successful thanks to Sir Osbert Sitwell that allowed the shell to be preserved.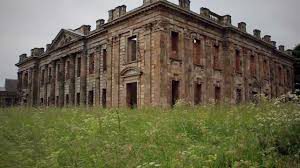 The once grand house now stands as a ruin. It's without a roof, or even floors, but some of its grand fittings and fixtures remain, almost a living memory. Some of the people who once lived there seem to have remained since people have often reported cold spots in the grounds, strange apparitions, the smell of tobacco and shadows lurking in the corners.
Witnesses have reported a grey figure wandering the graveyard towards the church. Could this be a resident of that very graveyard? A ghostly figure has been seen haunting the adjacent church porch. It is said to be the spirit of one of the owners of the house. Many people have complained of being followed across the grounds by a strange man who never quite catches up with them.
Then there's the cellar. Although you can no longer go down in the deep cellar beneath the old house, there are numerous reports of movement within this part of the building such as footsteps and even a ghostly arm that appears out of thin air and beckons you to enter.
Specters have been seen walking around the grounds, and no visitor ever complains about feeling lonely at the hall. If you are passing through, and you love Downton Abbey, you may want to check out the architecture, the view, the history… but beware of the ghosts, and do NOT go down into the cellar. You may find yourself lost in the caverns that run under one of the lost houses of British aristocracy.
© 2023, G. Michael Vasey & My Haunted Life Too.com (Unless indicated otherwise by author's own copyright above). All rights reserved.