16 October 2017 | Your True Encounters
This October we are going to bring you some of the most interesting #true paranormal cases we can find. You can discover more true, terrifying accounts of the paranormal right here.
The Czech Republic lies in central Europe on the edge of vampire country. As you might expect, it is a country of myth, legend and the weird paranormal. It might just be the most haunted country in the world. However, as we approach Halloween, I want to draw your attention to what just might be one of the creepiest places in the country.
Once in the village of Lukova, St. George's thrived as the local parish church. That is until a string of strange incidents which culminated in the collapse of part of the ceiling of the church during a funeral, convinced the locals that the church was cursed. With no money to renovate and a feeling that something dark and sinister had infected the building, the locals abandoned the church and left it to rot in the elements. That was in 1968. Since then, the church has steadily degraded inside and out making it a very scary place after dark.
A local artist however, seeing the dilapidated and creepy shell of the church came up with a plan. He turned the Church into a creepy work of art by adding ghostly figures in various poses though out the Church building. These white figures now adorn the church and draw visitors from all over the world who, in turn, provide money to keep the Church in its current dilapidated and creepy state.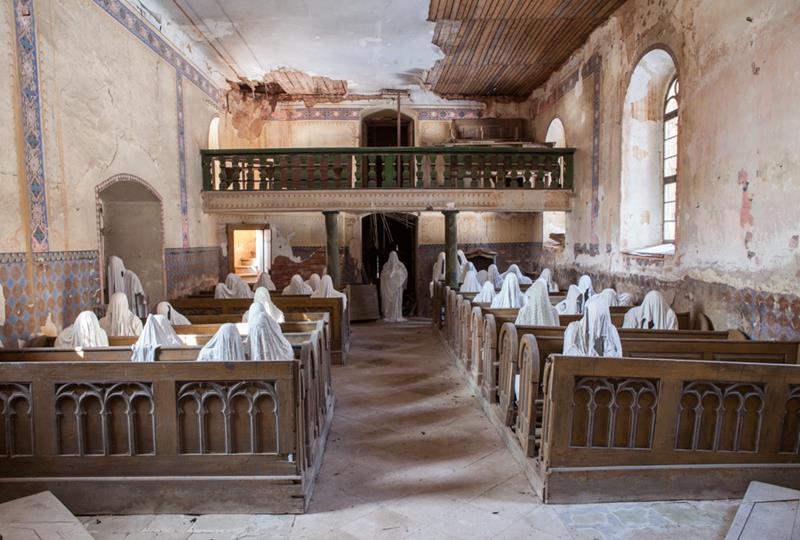 What a place to spend a creepy Halloween?
Have you tried these great #paranormal books from G. Michael Vasey? If you're looking for true tales of the paranormal this #Halloween… just click here.
© 2023, G. Michael Vasey & My Haunted Life Too.com (Unless indicated otherwise by author's own copyright above). All rights reserved.