26 January 2018 | Your Stories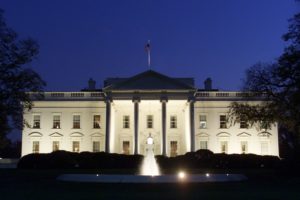 On a lonely night in 1946, President Harry S. Truman went to bed at 9 p.m. About six hours later, he heard it.
Knock. Knock. Knock.
The sound against his bedroom door awakened him, he wrote to his wife in a letter that is archived in his presidential library and museum.
"I jumped up and put on my bathrobe, opened the door, and no one there," he wrote. "Went out and looked up and down the hall, looked in your room and Margie's. Still no one. Went back to bed after locking the doors and there were footsteps in your room whose door I'd left open. Jumped and looked and no one there! The damned place is haunted sure as shootin'. Secret Service said not even a watchman was up here at that hour."
"You and Margie had better come back and protect me before some of these ghosts carry me off."
Find out about more ghostly goings on in Washington by clicking here.  Have you tried these great #paranormal books from G. Michael Vasey? If you're looking for true tales of the paranormal to keep you chilled throughout this harsh winter… just click here.
© 2023, G. Michael Vasey & My Haunted Life Too.com (Unless indicated otherwise by author's own copyright above). All rights reserved.