22 March 2019 | Haunted locations, Your Stories, Your True Encounters
My last book was Motel Hell and it was a collection of reviews by scared guests of various hotels and motels around the world. It's amazing what you can find on TripAdvisor! Anyway, here is another review of a Wetherspoons in Bodmin, Cornwall for you. It's not in the book…….. but the place looks creepy!
A reviewer on TripAdvisor said of this Bodmin pub and hotel – Chapel-an-Gansblydhen –
We stayed in Bodmin for 2 nights and visited the Wetherspoons converted Wesleyan Methodist chapel on the first night. We loved the atmosphere of the building and the original features that have been retained were a pleasure to see. We spent the evening envisaging what it would have been like in the mid-1800s, and the comings and goings of the churchgoers at that time. Just before leaving, my partner visited the gents toilet and returned to tell me he had had a strange experience. He had sensed someone walk in behind him, turned around and there was no one there, but as he turned back, in the glass-fronted advertising poster on the wall in front of him, he very briefly saw the reflection of the side view of face of a thin-faced man with shoulder-length lank dark hair moving from right to left across the bottom corner of the glass. It lasted less than half a second and immediately afterward he felt goosebumps and tingly all over. He was so excited about it, said he never felt fear or threatened. This just added to our experience. Maybe one of the old patrons of the church was going about his business and my partner was in the right place at the right time and was privileged to witness it.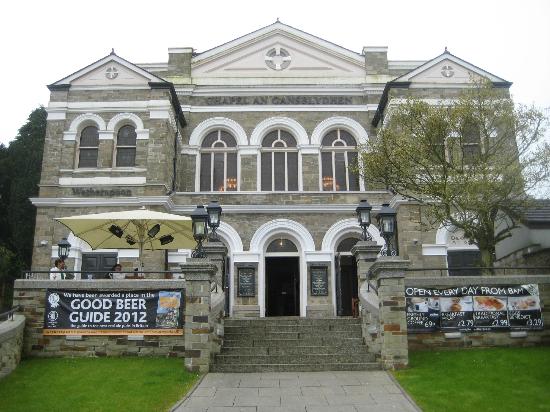 © 2023, G. Michael Vasey & My Haunted Life Too.com (Unless indicated otherwise by author's own copyright above). All rights reserved.