29 April 2019 | Haunted houses, Your Stories, Your True Encounters
I found this story on the web……. scary!
"Growing up, my dad's house held many spooky, unexplainable nights. We would hear loud, heavy footsteps running up the stairs when we were home alone. It also sounded like a person – or thing – was dragging a rake up the walls as it sprinted up the stairs. But there was one room in the house where – sometimes in photographs – it looked like a man was watching us from the windows. The photos below were taken in the same room and six months apart. Each shows a different window in the room."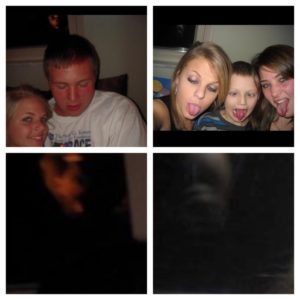 Submitted by Kara Siler – Amelia, Ohio
© 2023, G. Michael Vasey & My Haunted Life Too.com (Unless indicated otherwise by author's own copyright above). All rights reserved.