04 June 2020 | Haunted houses, Haunted locations, Your True Encounters
Langley Castle in Northumberland, England, is now a hotel as well as a fortified medieval castle. Those who know me will know I have a soft spot for haunted hotels and have even put out a book filled with reviews of haunted hotels. Langley Castle is also reputed to have been the inspiration for JK Rowling's  Moaning Myrtle and Grey Lady, which both haunt Hogwart's.  That is because it hosts the ghost of the Gray Lady who is regularly seen sobbing uncontrollably as she glides through the corridors towards a high window. She looks back with a tear-stained face, and then jumps and disappears…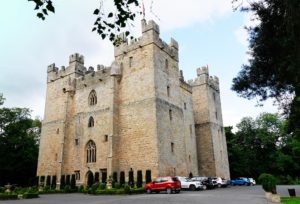 No one really is quite sure who the ghost is as the obvious candidates can all be ruled out. Reputed to be Maud de Lucy, who threw herself from the battlements when her husband did not return from battle, but this story has been disproven as Maud was not the wife but the daughter of Sir Thomas and that Maud remarried after her husband was lost in battle and lived a long life. So, it is a bit of a mystery who the lady actually is.
The Castle has quite a history going back to the 12th Century and was partially destroyed in a siege by Henry IV. The ruins lay there until a Cadwallder Bates and his wife purchased them and restored the Castle in 1882. It was then used as a barracks in WW2 and later as a girl's school.
With many reviews of the Hotel, I searched through and found the following;
After the meal we headed back to our room. This part I really did not expect.
At around 1am I was awoken to see what I believe to be an apparition stood at the bottom of my bed!
Believe this or not, please ask the Blonde lady with Glasses at reception and she will be more then happy to tell my story, as I was so quick to explain after Breakfast!
That was the only one that I could find…
A former kitchen porter reports being "pushed" from behind by a ghost when standing on the castle walls and babies are sometimes heard crying…. Looking at the photos, it certainly looks like it should be haunted!
© 2023, G. Michael Vasey & My Haunted Life Too.com (Unless indicated otherwise by author's own copyright above). All rights reserved.