The best selling My Haunted Life series of books by G. Michael Vasey are available on all Amazon sites as Kindle books. They are also available as ebooks at a number of other online sellers including Apple and Barnes & Noble. Recently, all of the books have been made available as audiobooks as well read by the talented Alan Philip Ormond. The Extreme Edition is a compilation of all three ebooks with two bonus stories. It is available in Kindle, Audiobook and paperback versions.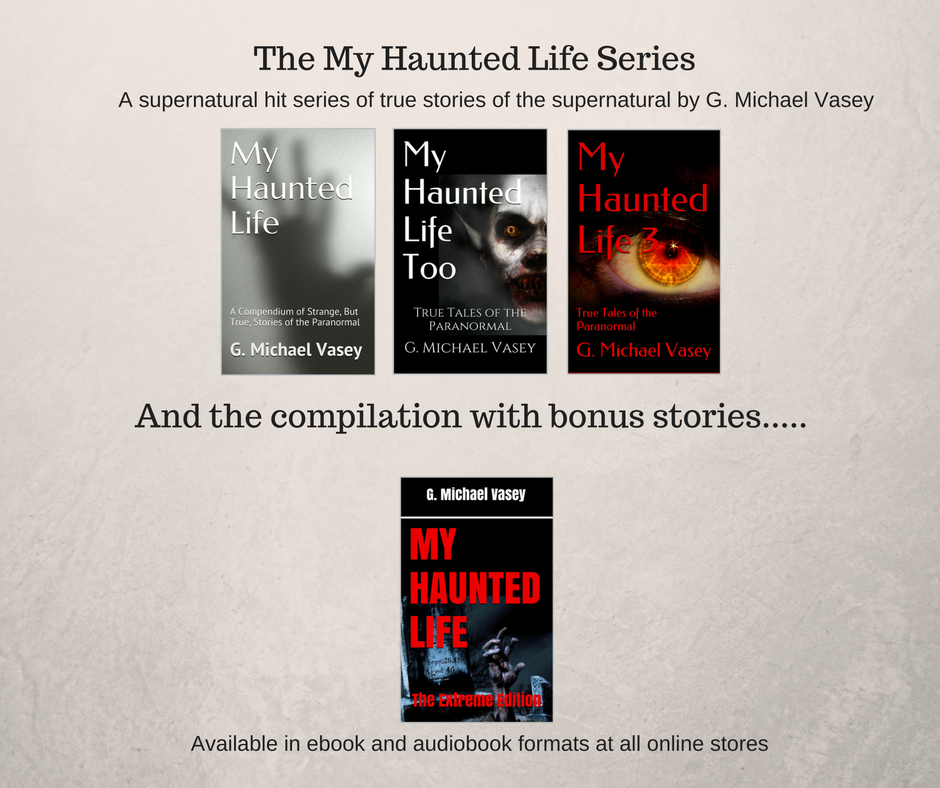 My Haunted Life -An Amazon supernatural best seller – True Tales of Demons, Ghosts, Evil, and Things That Go Bump in the Night…
My childhood was not all normal, in fact it was filled with terrifying and mysterious events, scary entities, frightening ghosts and spirit encounters, bizarre and eerie poltergeist activity, strange supernatural events and horrific encounters with the paranormal. In my house, things really did go bump in the night! These are all true stories of strange experiences that happened to me.
Little blue people jumping out of mirror, green blobs appearing, a mysterious woman appearing in the ocean waves holding a sword and much more….
An excerpt – To my utter amazement, the windows behind me suddenly rattled and with a loud cracking noise, blew wide open. A rush of air entered the flat, blowing her hair back and scattering the pile of poems all around the room. Her eyes, probably like mine, widened in total shock and awe. Then, the pièce de résistance, the huge paper Leonardo Da Vinci "Last Supper" picture, pinned to the wall with pins, suddenly billowed off from that wall behind her, passed over her head and landed on the coffee table in front of her. It actually flew against the wind from the window to get there.
Another – We both watched as the figure turned its head disturbed, stood up and then glided over and out through the wall.
Another – Then, the first footstep and creak of the bottom stair. My heart was beating as if to burst. Another long sigh and another step.
Another – The figure was now so close to me that I could see its appalling face–a skull with dark eye sockets.
This book is a collection of creep and often scary true events – all strange and all true.
When people say that "fact is stranger than fiction"– they aren't joking.
My Haunted Life Too – An Amazon #1 best seller in the supernatural and unexplained categories, My Haunted Life Too is a spine-tingling series of true stores of the paranormal. Come along and scare yourself with these very, very strange creepy tales…
True Tales of Ghosts, Evil, demons, poltergeist, Strange Creatures and Things That Go Bump in the Night…Have you ever felt as if you were being watched?
Have you ever experienced something you simply could not explain?
Have you ever been terrorized by an entity?
Have you ever lived in a haunted house?I have. It's not fun!
Excerpt: In front of her, down at the bottom of the stairs, she saw what looked like a small demon…..
Another: The figure then seemed to gently glide farther away into the shadows of the undergrowth at the back of the garden as if hiding itself…
Another: It was when the scratching sounds started that he called someone in again…
Spooky true tales to keep you awake at night and sleeping with the lights on.
 My Haunted Life 3 –A third installment of the Amazon best selling series – My Haunted Life.
True tales of demons, ghosts, evil, strange events and things that go bump in the night…

What it is like to camp on a Civil War battlefield in Yorkshire,
Be chilled to the bone by the creepy antics of a ghostly lodger,
Wonder about people who come back after death to PROVE that they still exist,
Whether that monster in the cupboard is real?
What an orb actually is?
Deja Vue and parallel universes,
Worry about the ghost whose boots were made for walking,
and many, many more chilling, thought-provoking and true stories of the paranormal.
My Haunted Life Extreme Edition
. – This super collection of of over 50 creepy true tales of the paranormal will have you tingling with fear and curiosity. Ghosts, demons, poltergeist, disembodied voices, vampires and much much more…. This is the paperback collection of the hit Kindle series of My Haunted Life books (My Haunted Life, My Haunted Life Too, My Haunted Life 3) plus two all new bonus stories. A truly unique set of tales of the supernatural that will give you goosebumps and have you looking over your shoulder.
See all of G. Michael Vasey's books here.