G. Michael Vasey is a collector of paranormal stories and a magician.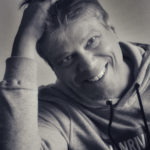 He writes paranormal books that will keep you awake at night, poetry that will make you question reality, and books on practical magic and shamanism. He grew up experiencing ghosts and poltergeists, studied and taught magic with a real school of hermetic sciences and these days can be found in search of the Goddess in the forests and mountains of Czechia.
He hosts the podcast – My Haunted Life Too – reading stories you submit to this website
He also hosts a podcast series called The Magical World of G. Michael Vasey that looks at reality, magic, and myth.
Both podcasts can be listened to on Spotify, Apple, Youtube, and many more outlets.
Gary has had many paranormal hit books on both sides of the pond with books like the definitive investigative account of the black-eyed kids –  Chilling Tales of Black Eyed Kids, and scary thrillers like My Haunted Life Too, and Your haunted Lives.
He also touches on magic and the nature of reality with books like Chasing the Shaman, The New You, Inner Journeys, and The Mystical Hexagram (penned with Sue Vincent).
You can find all of his books on his Amazon Author's page.
He likes to splash words on canvas and has issued several volumes of compelling poetry like The Dilemma of Fatherhood and Reflections on Life.
He has appeared on numerous radio shows and popular podcasts such as
* Passion for the Paranormal,
* Jim Harold's paranormal podcasts,
* Mysterious Radio,
* True Ghost Stories Online 
* X Radio with Rob McConnell and,
Anthony Peake's Consciousness Hour
Sharing strange and scary stories and his expertise in all matters supernatural. He has also been featured in Chat – Its Fate magazine and been interviewed by Ghost Village and Novel Ideas, amongst others.
Whether you've heard one of G. Michael Vasey's radio appearances or read one of his books over the shoulders of an avid reader on the bus, or whether you've simply got an interest in the paranormal and stumbled upon this page… You are going to be pulled into the paranormal world of G. Michael Vasey, and you will be hooked.
In the end, I am fascinated by what we are and why we are here. I am captivated by reality and what it might be. I am a firm believer in magic and the power of the mind to shape reality. That's what I write about, think about, and obsess about…..
Feel free to drop him a line at gary @ garymvasey dot com or find him on the web
Subscribe to my substack for daily stories, thoughts and rants