28 May 2015 | May 2015
This incident happened to my daughter about 15 years ago, which would put her at the age of 13. Her father and she had been visiting friends for the day. They had left the friends' place at around eleven to head home. They were driving down a road that doesn't see much traffic that night. My daughter and her father were talking about a trip they were going to take the next day. All of a sudden, up the road in the headlight, was a woman walking along side of the road. This was early September when the evenings get very cool. She had on shorts and was carrying something.
When the car was about 20 feet behind her she stopped walking and turned around as if to see who or what was coming down the road. When the car got to about 10 to 12 feet from this woman, my daughter and her father were stunned to see that this lady had no face! She was also holding a blanket and there was movement under the blanket as if a baby was kicking. She was facing the vehicle as they passed her. Needless to say, my daughter and her father just looked at each other without saying a word. My daughter said her father was as white as a sheet. They never mentioned this incident for a long time.
My daughter has many times tried to talk to her father about it, but he will change the subject.
Submitted by Mel.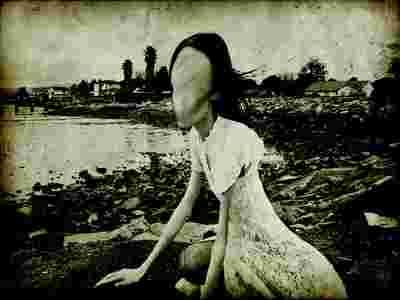 © 2023, G. Michael Vasey & My Haunted Life Too.com (Unless indicated otherwise by author's own copyright above). All rights reserved.