20 May 2016 | May 2016
This happened to me a couple of months ago when I was working away from home. My workplace had booked me into a guesthouse to stay for the week. When I arrived there, I saw that it was an older building and at the door there was a old copper plate mounted saying that the building had been an orphanage that had opened in 1827 and closed in 1988.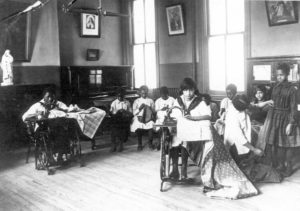 When I entered the building, a man greeted me and showed me old pictures of the children that used to stay there. Not much appeared to have changed inside as it still had old wooden floors and furniture. My room gave me the chills and when I fell asleep, I had dreams of children but I was one of them and we played and laughed. When I woke up it was like I felt like a child again.
At the end of the week, as I drove back home, I began to feel as if there was something wrong. Something seemed to be following me every where I went. When I'm driving at night I can see out of the corner of my eye a small figure sitting in the passenger side of my car. Just last week, I visited my aunt where I always play games with my nephew and teach him sports. That night, I went to bed and in the middle of the night, I woke up to someone opening my bedroom door. I saw a small figure come in, so I thought maybe it was my nephew and he had had a nightmare or something so i just closed my eyes and felt him climb in beside ,e. When I turned around to ask what was wrong, there was no one there.
I went away for work again this week and there he was again – a small boy staring at me around corners. When I check there is never anyone there.
I don't know if I'm going crazy but its starting to freak me out.
I think I brought something back with me from the orphanage – I just hope i haven't adopted a ghost child?
Submitted by Steve.
© 2023, G. Michael Vasey & My Haunted Life Too.com (Unless indicated otherwise by author's own copyright above). All rights reserved.