15 November 2015 | November 2015
I was taking a routine drive into town one morning. It's about two miles and it's a woody road that is spotted with a few houses. We often have fogs and mists that roll in as there are several lakes in the area. That morning a mist was rolling in—but I didn't take any notice. It was routine.
I had gone half a block, pretty slowly, when I saw a light in the fog. I thought it was another car with it's headlights on—but as I got closer I saw a market that I hadn't seen before. I pulled in to get my groceries and I was marveling at the fact that this new market had been built so quickly. I went inside and remarked about how quickly they had built the place.
The manager looked at it and answered that the market had been there for forty years.
I asked him where I was and he told me I was in a place that just happens to be on the other side of the country. I checked my watch and I'd left home about ten minutes ago. I have no idea what happened—but I do know that it took me two days to get home.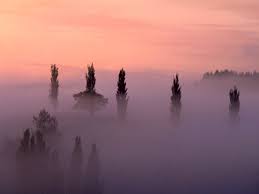 © 2023, G. Michael Vasey & My Haunted Life Too.com (Unless indicated otherwise by author's own copyright above). All rights reserved.