27 February 2016 | Creepy places, February 2016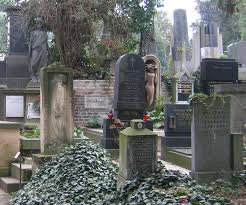 Last year, we visited an area of Prague called Vyshrad. According to Wikipedia, Vysehrad (Czech for "upper castle") is a historical fort located in the city of Prague, Czech Republic. It was built, probably in the 10th century, on a hill over the Vltava River. Situated within the castle is the Basilica of St Peter and St Paul, as well as the Vyšehrad Cemetery, containing the remains of many famous people from Czech history, among them Antonín Dvořák, Bedřich Smetana, Karel Čapek, and Alphonse Mucha. It also contains Prague's oldest surviving building, the Rotunda of St Martin from the 11th century.Local legend holds that Vyšehrad was the location of the first settlement which later became Prague, though thus far this claim remains unsubstantiated.. I found it a beautiful place, but the Cemetery truly freaked me out.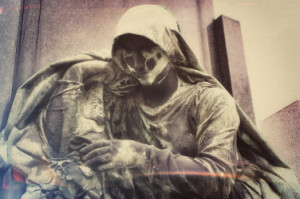 Although the Cemetery is probably the place many famous Czech's desire to be laid to rest, it took me several days to shake off the total gloom and despair that I felt after visiting it. The whole time I was there, I kept seeing shadows in the shadows and when I turned around, I could swear I was being watched. The presence was truly evil and left me with a feeling of being lost in a nightmare. I never actually saw a ghost, so to speak, but I am convinced something unpleasant resides there and it's not a place I would want to be in after dark. Maybe, it's the art nouveau tombstones, the stark black marble tombs or perhaps it really is just haunted, but I shudder recalling being there.
Submitted by G. Michael Vasey

© 2023, G. Michael Vasey & My Haunted Life Too.com (Unless indicated otherwise by author's own copyright above). All rights reserved.