08 July 2023 | Creepy places, Demons, Ghost hunting, Haunted locations, Your Stories, Your True Encounters
I recently was involved with filming an episode of a forthcoming Discover channel show at Hrad Houska – The Gates to hell – here in the Czech Republic. At one point, we were in the castle and I was talking about the murder of a Swedish Mercenary in the room that we stood in. He was an occultist who was said to be engaged in black magic and satanic rites at the Castle who was murdered by his own men. As I told the story – and I was already feeling the darkening atmosphere – suddenly my voice took on a strange echo and the whole atmosphere changed. It was charged as if with electricity and all the sounds – my voice included – had this strange tinny sound. I asked the crew if they heard it too – they all nodded. We left the Castle quite quickly after that and went back out to the courtyard in front  of the Castle.
There, we sat down for some food – even though it was 2am – this was dinnertime. I asked the crew again – did you feel that? Was it just my imagination? They all said not and then the Producer said "Actually, as you said that, I heard and felt a breath on my neck. I didn't turn as I was filming and anyway, I was stood back to the wall….." Glad he told me outside.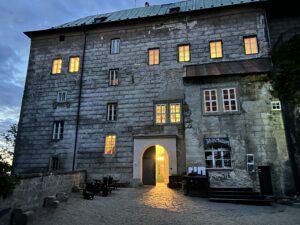 © 2023, G. Michael Vasey & My Haunted Life Too.com (Unless indicated otherwise by author's own copyright above). All rights reserved.